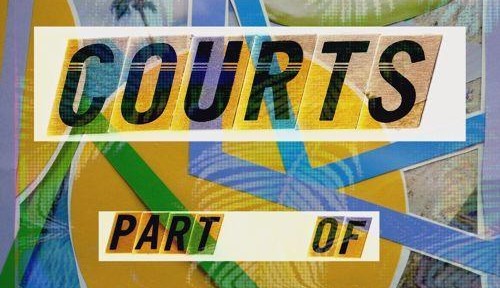 The sun is currently shining outside our window and with summer fast approaching we've been vibing along to this submission song this morning. Not entirely our usual get up, but there's something "feel good" about the hybrid "urban meets indie" licks and joyful chant-worthy chorus of this that just had to be shared. The band behind it? Courts, aka Dan, Luke, Reece, Chris and Joe, hail from Basildon in Essex. The video, premiered by Noisey, was filmed on a lads holiday, showcasing the party lifestyle Courts are so fond of; perfectly juxtaposed with the encouraging and positive lyricism: "When times get low…doesn't matter as long as you know…don't ever let a good thing go…"
A little birdie even tells us that this was hailed as Zane Lowe's last ever 'Next Hype' on Radio One, so that's an introduction if ever a band has had one.
Check out the retro, BFK directed visuals below and let us know what you think.
You can Pre-order 'Part of' here: http://bit.ly/1AHOUSr
[xt_video type="youtube" clip_id="BTa3NdhXiWk"]